KTR Setting Right Examples By Distributing Eco-friendly Electric Autos For Street Vendors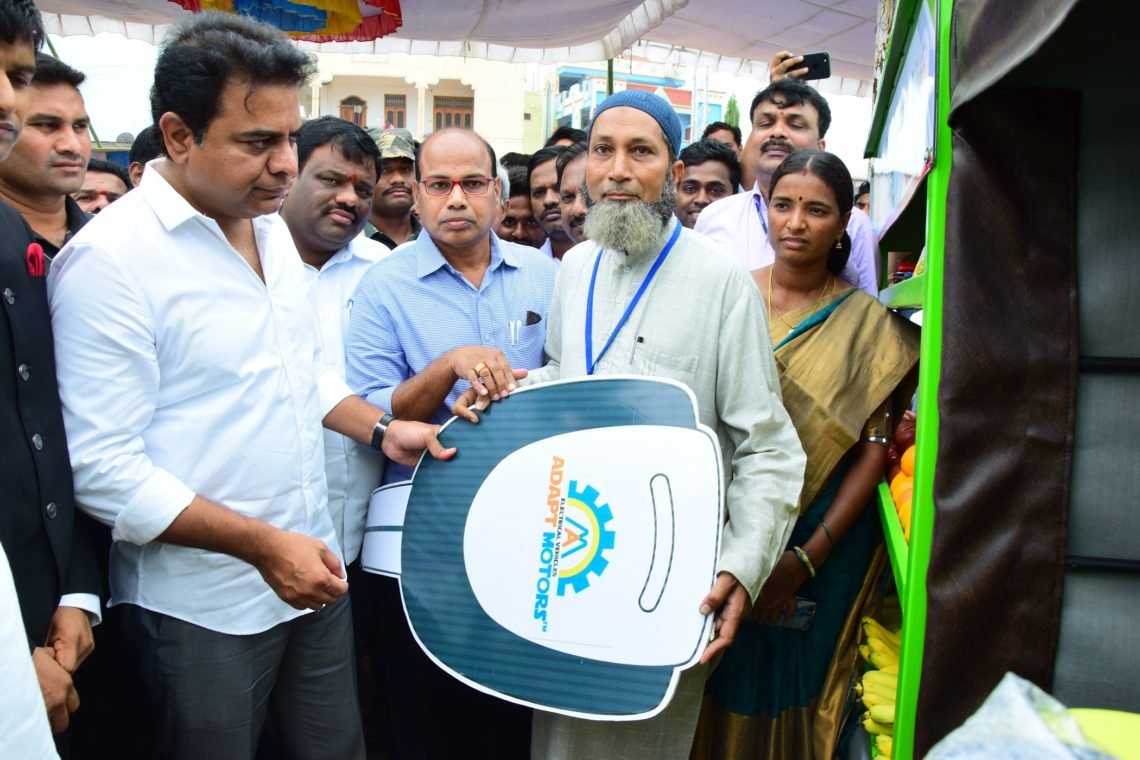 By distributing Eco-friendly Electric autos on the occasion of 4th Telangana Formation Day, KTR proved once again that he is a perfect epitome in adopting new technologies. This new adaption from Diesel autos to Electric autos shows how Telangana Government is setting right examples in not only adopting new technologies but also choosing right products that are nature-friendly.
Adapt Motor's Sweekar Auto off late is a revolutionary product in the electric e rikshaw segment which is a proud "Make In India" and "Make in Telangana" product, from almost half a decade our e- rickshaws are being widely procured for various purposes like passenger and goods transport but this time we are delighted in delivering our auto to Government of Telangana on the occasion of 4th Telangana Formation Day, these autos are customized as per the government guidelines and are tailor-made for Fruit and Vegetable vendors requirements.
Adapt motors always played an Evangelist role in bringing the green revolution in the country through our Sweekar Electric Autos and today we are delighted to see our autos serving various prestigious Central and State government bodies. Our seamless efforts towards green revolution are slowly abating Diesel and Petrol Autos and attracting public towards Electric Autos which are economically viable and Eco-friendly as well, and this move of distributing electric autos to street vendors under government schemes is a big pat on our shoulder and this kind of encouragement from government bodies in establishing Green Telangana is a huge opportunity for electric vehicle manufacturers like us to invest more in future products.
Adapt motors being the only electric e – rickshaw manufacturer in south India with a well-equipped manufacturing unit in Hyderabad and distributors spread across all major south Indian states is setting the bar high in terms of delivering quality and cost-effective autos from almost half a decade. All our Sweekar Autos gives a mileage of 100 km with just 3hrs of charge and are widely being procured by businesses that have the defined purpose of utilization.
Talking to Media on this glorifying occasion Madhukar Reddy Parupati, one of the key founders of the group said they are happy to see Telangana Government coming forward in distributing Customised Electric Autos for Fruit and Vegetable vendors, he said the spike in the adaption of electric autos helps the mother earth in staying green and he is quite impressed with KTR taking this great initiative by personally handing over these Autos to vendors below the poverty line, KTR being one of the charismatic leaders in both state and central government has all the power to make public follow his steps in adapting to Electric Autos.
Madhukar further added that he wants to extend his sincere gratitude to all government officials who supported in making this project possible.Taking about the future products Mdhukar reveled their revolutionary Solar powered Electric Auto which is going to hit the markets very soon, this unique future will enable electric autos to run 40 km extra with the help of solar power.