Shift to Electric Vehicles to escape from the ever hiking fuel prices.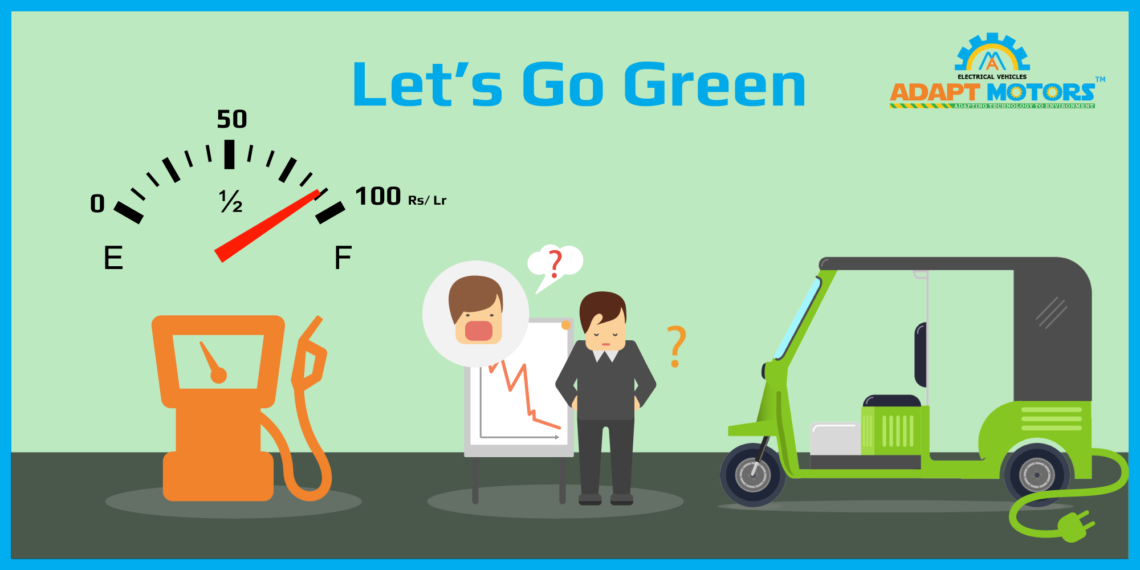 Adapting to Evs is a great Idea from the environmental perspective, eco-friendly Evs are a great alternative for gasoline/diesel and petrol vehicles, with fuel prices almost touching Rs 100/litre, electric vehicles are a great alternative to cut down the costs. If you own an electric vehicle you are obviously the one with a greater vision for future.. you are not only counted among the group of the "smartest people on the globe", you'll be creating a big difference for the environment, and saving lots money.
Although Electric cars are a smarter alternative for orthodox fuel vehicles on many grounds, electric cars still has its own cons which are to be yet addressed considering the long mile drives pickup and safety, but Electric Autos are one segment which has defined the purpose of utilization, considering their limited usage and range of utilization. Hyderabad based Adapt Motors has designed two stunning Electric Autos Sweekar (Passenger Auto) and Sweekar- L ( Electric Load puller Auto) which are a smarter alternative over Diesel/petrol autos and can effectively address 80% of this segment needs.
Adapt motors has done extensive research before designing these two electric autos and arrived at an understanding that passenger autos are nowadays being maximum utilised to commute passengers from on route to the other and in majority cases they have fixed and specific routes with overall commuting distance per day not exceeding 100 km, keeping this in mind it launched Sweekar – Passenger E – Rickshaw which gives 100/km mileage with a overnight charge of 5 to 6 hrs. It can be easily plugged in into power in the night time and can be used throughout the day without any interruptions.
Even commercial cargo pullers are majorly being utilised by Appliances stores, Hardware stores to deliver customer orders or by restaurants to deliver food from their central kitchen to different own outlets. Electric Cargo Autos can be a smarter alternative for all these categories as their usage is very much defined and the driving range is not exceeding more than 100 km/ day, Sweekar- L  comes with a 500kg load pulling capacity and gives 100 km millage with just 5-6 hrs of charging which is very much meeting the requirements and public is happy to replace diesel autos with E- cargos as it gives better ROI and it costs them only 40 paisa/km.
In both the cases, Passenger E Rickshaw and E – Cargo if the driving range is beyond 100 km, owners can charge the autos in the lunch breaks and other small breaks between the rides. Maintenance of Electric Autos is also very easy, you just need to change the distilled water once a month. With the ever-growing fuel prices, customers are finding Electric Autos as a great alternative to fuel vehicles.